From 2010—present, Xhurch has created a series of 'nativity' scenes put on display for public viewing for the week leading up to Christmas. Each scene explores the power of myth to form an alternative holiday ritual, offering ambiguous sacred space that is at once familiar and uncanny.
On December 23, 2010, Xhurch hosted its first living Nativity. It was by all appearances a faithful reproduction of a traditional Nativity scene, with Mary, Joseph, the baby Jesus, three wise men, a shepherd, two lambs and a donkey.
Friends and neighbors gathered and were treated to the familiar scene complete with classical Christmas music. The charismatic cast held static poses for upwards of 40 minutes.
Cast: Jana Cox, Jon Murphy, Melissa Ward, Patrick Morris, Josh Wrolstad, Matt Henderson.
Costumes by Jana Cox. Animals by Lauren Carter. Manger by Patrick Morris.
Credits: Joshua Lee Vineyard, John Griffin, Van Pham, Amanda Latham Griffin, Lymay Iwasaki, Chris Spencer, Brandon Arnold, Lauren Carter, Brandon Ellison, Josh Wrolstad, Sierra Grable.
The third-year Nativity aimed to "top out" in both conceptual scope and visual splendor, shepherding visitors into an uncanny digital beyond. Visitors entered through an LED-lined mirrored tunnel, where glitchy projections echoed into infinity. The octagonal tunnel led to a posterior chamber lined with four triangle-shaped monoliths housing earthly objects in process of digitization, accompanied by holographic glyphs. A fathomless void hung imposingly overhead fed by ribbons of light stemming from each of the four discrete upload station.
The exhibit was travelled to Seattle for ONN/OF light-based art festival.
NTVTY 3.0 @ ONN/OF
"Nativity 3.0 Help!" Fundraiser Video (by Lymay Iwasaki):
Credits: Isaac Frost, David Golightly, Sierra Grable, Amanda Griffin, John Griffin, Anne Harris, Rachel Hibbard, Vivian Hua, Lymay Iwasaki, Adam Krantz, Scott Mayoral, Troy Micheau, Brenna Murphy, Simon Paige, Van Pham, Emily Pothast, Kate Rose, Jim Satterwhite, Max Schneider, Chris Spencer, Ryan Stout, Joel Wrolstad, Josh Wrolstad,
Special Thanks: MSHR Cloaks, Earth & You, Hair and Space Museum, Rebuilding Center, Alberta Abbey, Zebra Imaging, Tap Plastics, Atlas Glass, Parr Lumber, Home Depot, Mike & Donna Henderson, all who donated.
Nativity IV
NTVTY IV took inspiration from the primordial, pre-formal symbology of water as the wellspring of creation. The exhibit presented visitors with a ceremonial vat of water amidst a Romanesque temple ruin overgrown by ivy.
The water was a vessel by which the exhibit would manifest: the transformation took place through a series of musical invocations, psychic transference, and group actualizing.
Performers: Star Child, Pulse Emitter, Hair and Space Museum.
"Darkness was over the surface of the deep. And the Spirit of God moved upon the face of the waters." - Genesis
(Marcea Eliade traces religious valorization of water to Genesis.)
Credit / Special Thanks: Mo Osborn, Gregg Shetterly, Scott Mayoral, Kate Rose, Justin Rigamonte, Caitlin King, Van Pham, Chris Spencer, Max Schneider.
Nativity V
Inspired by the emergence of artist-accessible virtual reality technology, NTVTY V was a nascent look into this transformational medium through a pair of Oculus Rift DK2s. The result was a fractured view of a virtual Xhurch diorama and a VR baptism administered by aliens on a gravity inversion table in the sky.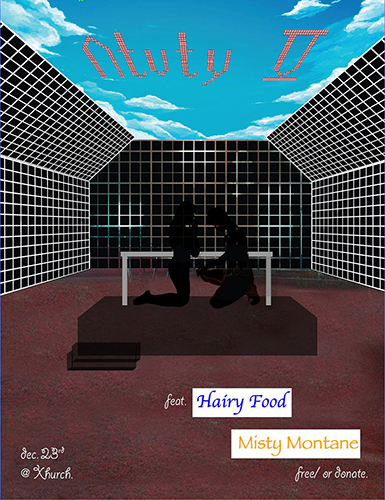 Poster by Matt Henderson/ Xhurch.
Fundraiser video by Matt Henderson/ Xhurch.
Credit / Special Thanks: Caitlin King, Scott Mayoral, Nate Klett, Jared Menane, Ray Nagler, Ryan Carlile, Keith Foster, Jesica Oliverio, Ami Taylor, Joel Cigret, Dean Leininger, Ian Weiland, Mike Erwin, Bone Mike, Hairy Food, Misty Montane.
Grid by Matt Henderson, Caitlin King, and the Xhurch Gridders Guild.
Music by Hairy Food and Misty Montane.
Nativity VI
NTVTY VI was a highly virtualized meta-experience and retrospective of all five of Xhurch's NTVTYs presented as a standalone room-scale VR experience for HTC Vive. The virtual installation was complimented by a throwback to the original living nativity of 2010, but with a futuristic face-lift, featuring costumes by Caitlin King and Grace Amber, lighting by Matt Henderson, and a rotating cast of performers.
NTVTY VI "living nativity"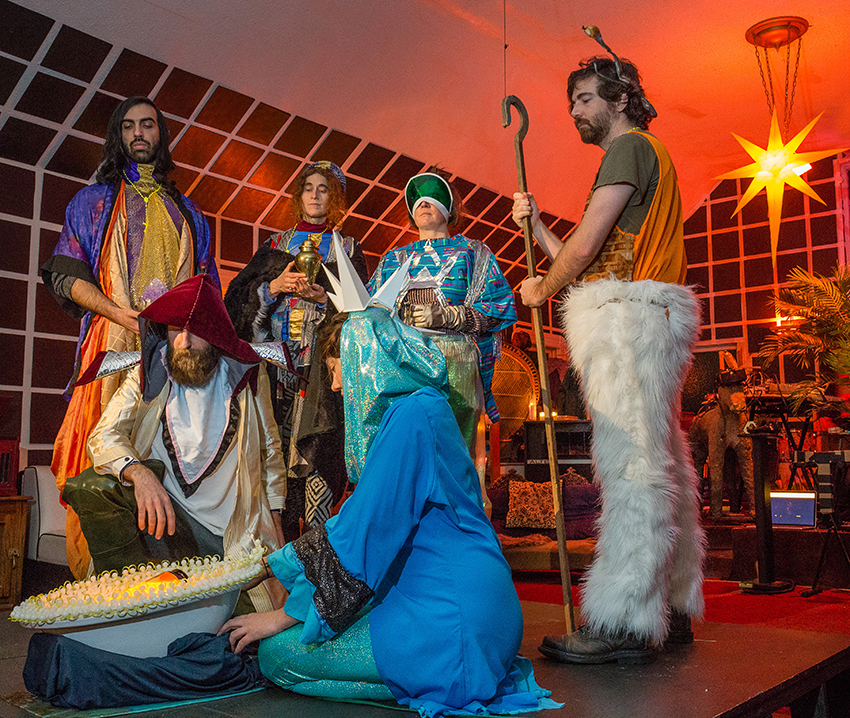 Photo: Scott Mayoral
From Wolf Shrine blog - "On top of the human experience, ntvty vi featured a retrospective of installations i – v by way of 3D graphics. If you're in the tech scene, you've probably experienced VR at one vanguard party or another, but I, being a common slob, experienced it for the first time here and it absolutely blew my mind. I can see why Leary and McKenna were so keen on this back as the technology started to develop; it dissolves the authority of consciousness just like a hallucinogen and forces a complete contextual reevaluation. And it's beautiful. The fact that you can attend a by donation art event and experience this, is truly futuristic." - Wolf Shrine blog
Screencaptures of NTVTY VI virtual reality retrospective.
"...the sensation is disorienting, until you forget about the physical space and your corporeal realm. Hidden objects take on a life of their own with uncanny detail applied to every surface, and it feels as though rooms shift in and out of perspective at hyper speed. Joining in and witnessing not only the virtual space but the pageantry involved becomes a sacro-religious occasion, so that everyone can encounter epistemological transcendence of the physical realm." - Wyatt Schaffner, local hippy
"Baby Jesus, Baby Jesus" manger (aka 'Baby Jizz-us') by Caitlin King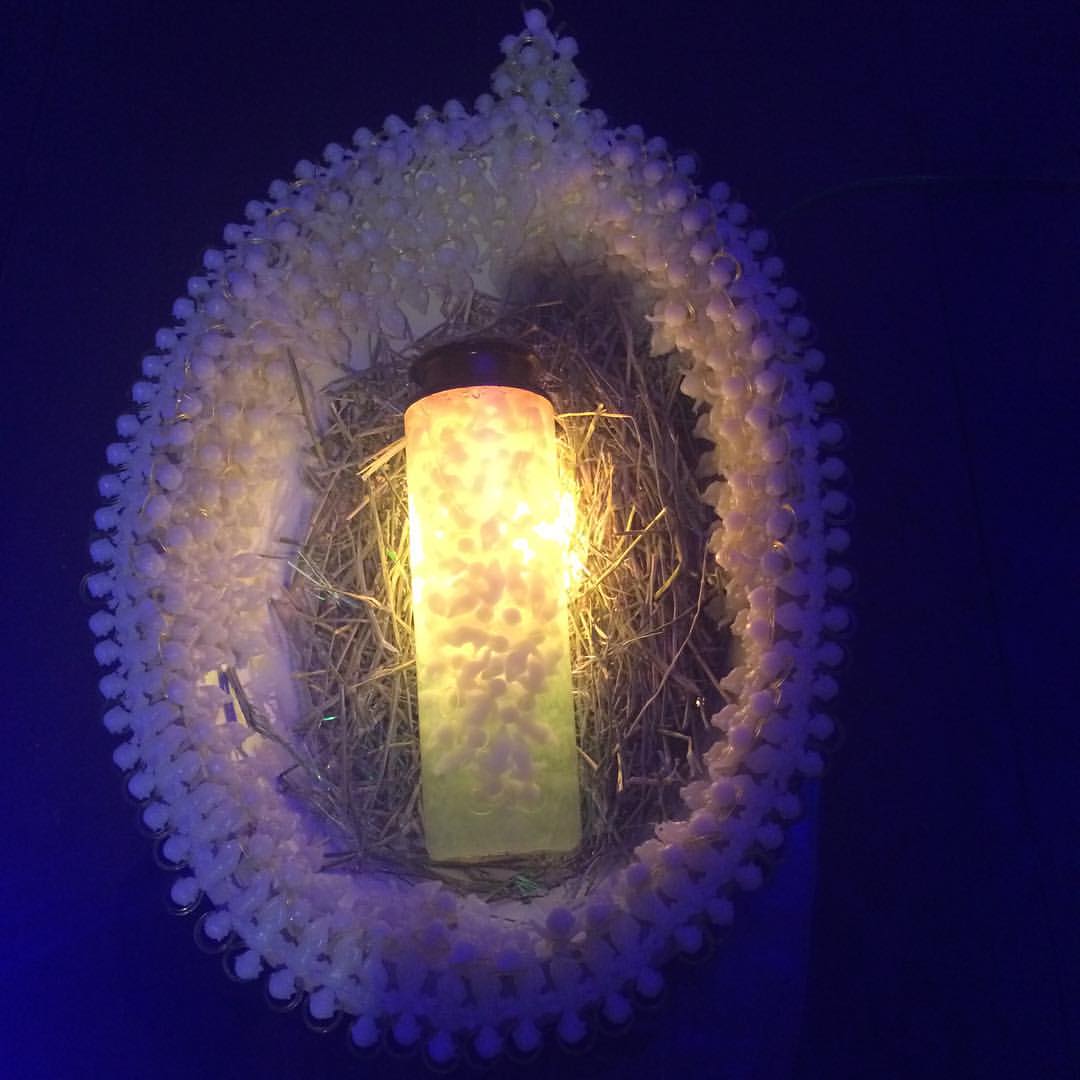 Postcard by Grace Amber & Caitlin King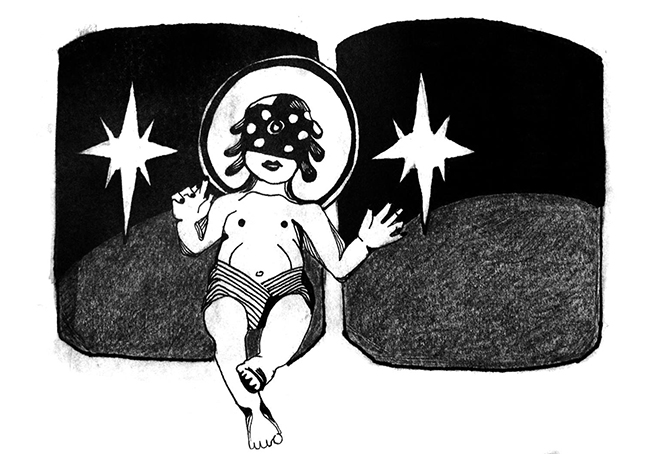 Special Thanks: Caitlin King (CK), Grace Amber, Cary Hull, Scott Mayoral, Dave Mosier, Chuck Copenspire, Michelle Mckay, Michelle Green, Seanna Musgrave, Gary Tyler, Damon Pidhajecky.
Cast: Caitlin King, Matt Henderson, Grace Amber, Father Ryan Carlile, Suzanne Stone, Chris Spencer, Kent Bye, Keelin B Mayer, Biz, Marika Shimkus, Rose Dixon, Charlie Bolton, Robin Wiesner, Colin Blanton, Tanner Noykoa, Chris Slay, Diana Ramos, Nico Daunt, Nate Klett, Nick Bindeman, Wyatt Schaffner.
Music: Mike Erwin, Ant'lrd, Entity, Sean Pierce, Justice Miracle, Ian Wieland + Chris Farstad
Nativity VII
NTVTY VII "liminal passage" once again combined digital and archaic forms, delving further into virtuality with Ashby Collinson performing 'Mother of the Void" into a motion-capture system broadcast in simultaneity. Caitlin King (CK/Numbskull) created an altar and offered a solemn communal ritual-practice to honor the dual nature of fire and set intentions for illumination, inspiration, and vigilance in the new year. She sang her song 'The Blue and Gray', serenading an intimate crowd of first arrivers.

Visitors explored co-presence within a networked virtual reality scene created by Matt Henderson, Stephanie Mendoza, Scott Mayoral, and Sonya Neunzert, before settling down for a lived-scored mocap performance by "television artist", Ashby Collinson.
Photos: Caitlin King / CG imagery: Matt Henderson, Stephanie Mendoza, Scott Mayoral, Sonya Neunzert.
Jack Gilbert unleashed invigorating verse, from his stream of consciousness:
"In a timeless realm, where the flame may lean neither toward destruction or creation, sometimes i dwell there... I'm on a formless plane, where the fever has passed, and they say how shall they grow, and they say what shall we know, from a natural enhancement, and the flame breeds and says, the flame breeds and says: 'you must grow again', for positive energy is growth and negative energy is regression, the plants grow with the positive energy of the sun, and die with the negative energy of the cold, and the hot energy says to me 'i do not request eternity, just be with me in this one moment, where we grow together, where everything is complete, when everything is optimized,' it said to me, 'it can only exist for one moment, because perfection is not permitted in this universe of entropy,' and then perfection fell away like a flame, and it said to me, 'i will be back again, in ten thousand years or a hundred thousand, but you should not measure perfection in the time of years,' and at the end, I look again and realize i am really in the middle, there is a measured perfection, just be glad we are not in the dimension where everything stands upon the precipice between destruction and perfection, just live again, if you can, hold up your opposite hand, if you can, what do you look for, what do you require, when everything I look for is nothing, i'm the master of the void and the master of heaven, but then, i meet in the middle and i see the devil, and he says to me, would you like a cup of tea, and then I move on, and then I see the number, it is only one, and i know that each of you are only one, and the connection is limited, but connect tonight and never fight (i know you don't have to) and i see you, when the mirror reflects upon itself, the infinities they all fall, like little flecks of stardust, or little flecks of glitter, they're falling down and tinkling in the psychic litter, i see them but I told them i will deal with what I have, and then they moved on, and they told me i was right, it really wasn't anything, it really wasn't what i was looking for, but of course, in a real world, imperfection is a true perfection, just embrace that, look at the reflection and know that the refraction of light has deformed you, but be glad for it, be glad for all things, be glad for love, be glad for fire even though it is the most opposite of things. thank you, my very best wishes follow you into the ether."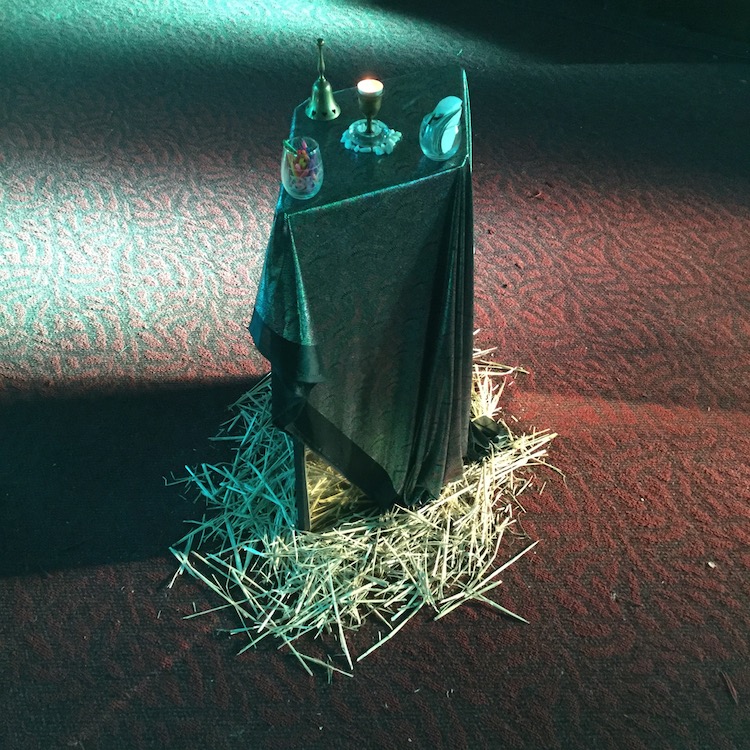 NTVTY VII altar: invoking illumination, inspiration, and vigilance in the new year. Photo: Matt Henderson
Special Thanks: Ashby Collinson, Caitlin King, Jack Gilbert, Stephanie Mendoza, Sonya Neunzert, Scott Mayoral, Robin Wiesner, Seanna Musgrave
Music: Elrond, Pulse Emitter, Warren Lee, Dean Leninger
DONATE via Paypal to help fund NTVTY VIII!