Venue History
Xhurch is an interdisciplinary arts venue and living space located in a former church. The story of how the building changed hands over the years speaks to the cultural and demographic shifts common to North and Northeast Portland. Built in 1930 as a synagogue, the diminutive "Alberta Shul" was then later sold to Mount Sinai Congregation, an all Black church, in 1952. The racial tensions inherent in the sale were distilled in a poignant letter from the rabbis of the shul-synagogue to their real estate agent ordering the sale of the building despite pressures having been put upon them to back out of the deal "for no other reason than that the purchasers, though Christian, are also Negro." The rabbis went on to say: "We regard such pressures as being violative of the principles of Americanism, of Judaism, of Christianity and of common decency... Man has no dearer right than the privilege of worshiping God in his own way." (learn more at
Samuel Gruber's Jewish Art & Monuments blog.
)
Throughout the following half-century a host of congregations rose and fell at the site where Xhurch now resides. Mostly small churches comprised of African American churchgoers. In 1980, the building was purchased by a sole proprietor who had no interest in church-planting, but just so happened upon the opportunity to buy the building. He continued to rent to small congregations for about thirty years until there came a point where frequent turnover became tiresome and the building began its term as a storage facility.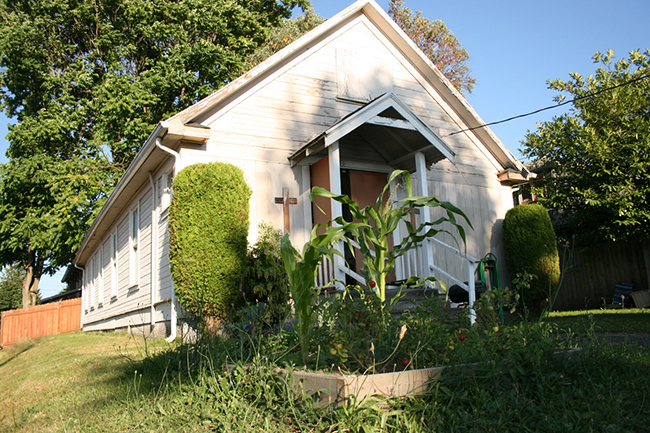 "...Man has no dearer right than the privilege of worshiping God in his own way." - Congregation Tifereth Israel, 1952

Shortly thereafter (in 2010) Xhurch was born. Xhurch started as a workspace and gathering spot for friends, artists, and collaborators, and soon blossomed into a unique venue for performance, art-making, and experiments in adaptive living. Since its inception the space has hosted a growing number of resident artists, musicians, and creative practitioners hailing from Portland Maine to Paris France, including many other passers through, while continuing to host regular art and music happenings, lectures, and more.